Press release
KAHA TO RENEW ITS WAREHOUSE MANAGEMENT SYSTEM WITH CONSAFE LOGISTICS 
The new WMS will enhance the logistics operation and strengthen customer service in the company´s main warehouse in Vantaa.
Kaha, one of the leading wholesalers of automotive products in Finland, has selected Consafe Logistics as their partner to renew the company´s warehouse management system.
Serving thousands of customers and cooperating with around 40 different transportation companies, Kaha has an impressive range of articles in its 30,000 square meter warehouse in Vantaa, where stock levels can reach over 100,000 items. Handling such a large number of transactions requires a robust and efficient logistics operation. The company has recently changed its ERP system and decided to modernize its warehouse management system too, to be able to meet future needs and challenges.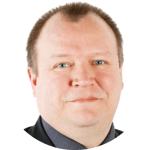 Kimmo Torni
"Our primary goal is to provide the same high-level service to all our customers. We were looking for a WMS that could manage the digital connections to transportation companies, provide tracking services throughout the whole supply chain, and ensure full visibility of shipments in and out of the warehouse while guaranteeing easy system upgrades and flexibility," says Kimmo Torni, Executive Vice President of Kaha Oy. 
Increasing digitalization and having more automated warehouse processes were also key aspects for Kaha. The new WMS will take care of the decision-making logic with the support of artificial intelligence. The software will provide information on cases, such as where to store fast-moving and seasonal items to save time and walking distance at packing stations or whether a slow-moving item should be kept in stock. 
This is the first cooperation between the two companies.

"During the selection phase, we put together a list of specifications and requests, and Consafe Logistics scored the highest in meeting our multiple criteria. Their commitment was exceptional, despite the complexity of our project. We feel that the team understands our needs,"

explains Torni. 
Pekka Lehtinen
"We develop solutions for our customers that significantly impact their warehouse operations. Therefore, we always think about the long-term and take time to understand their business and their current and future needs. We are delighted that we can work together with Kaha in elevating their logistics operations to the next level," says Pekka Lehtinen, Managing Director of Consafe Logistics Finland. 

The new WMS is expected to go live in Vantaa by December 2022, while the old system will stop operating during H2 2023. 
About Kaha Finland
Kaha Oy has been a strong player in the automotive aftermarket since 1934. Our business is based on long-term and close partnerships with local wholesalers, car importers, car dealers, and industrial companies in Finland. Our portfolio consists of the most well-known brands guaranteeing a high level of product quality. Today, our product range is the largest in our market area, consisting of approximately 450,000 different items, which can be viewed at the B2B webshop Autoluettelo.fi.  We focus on product availability and efficient logistics, ensuring that over 100,000 items are always in stock at our warehouse to supply these products quickly and efficiently to our customers.
About Consafe Logistics
Consafe Logistics is a software development company. We design products and technologies that make warehouse operations of logistics and supply chain companies smarter, more effective, and thus more sustainable. The Consafe Logistics Group has 450+ employees who support our global clients from six European countries - Denmark, Finland, The Netherlands, Norway, Poland, and Sweden. Our headquarters is located in Lund, Sweden.
Press contact
For more information, please contact: