Blog
WHAT IS A WMS? (WAREHOUSE MANAGEMENT SYSTEM)
There are various processes carried out in a warehouse. Orders come in, items are picked, boxes are packed, forklifts move along the aisles, and goods are loaded into trucks for delivery. These activities can be manual or automated, or a mixture of both, but every warehouse manager knows the smoother they run, the better. The question is, who decides what, when, and where to do in the building?

It is the warehouse management system, which also provides you the control over the operations! This blog post will discuss what a WMS is, how it works, and how it can improve your customers´ satisfaction.

Decision-making automated
Let´s start with the basics: what is a warehouse management system? Simply put, it is a software application designed to automate the decision-making logic in the warehouse to create an optimal workflow for your operations. The WMS connects all levels of business logic and machine control and interacts with other systems, such as the ERP, WCS, and transport management systems. It is often referred to as the "brain" of the warehouse – just like the human organ, it can learn and adapt to changing needs by combining different systems into one functional entity.

What are the benefits of a WMS?
By optimizing the storage, collection, and delivery of goods, the WMS lets your warehouse operate in the most efficient way possible. For example, it prevents you from driving around with empty forklifts, shipping air, or picking errors. Thus, you can improve customer satisfaction, save on resources, and reach higher sustainability in the warehouse.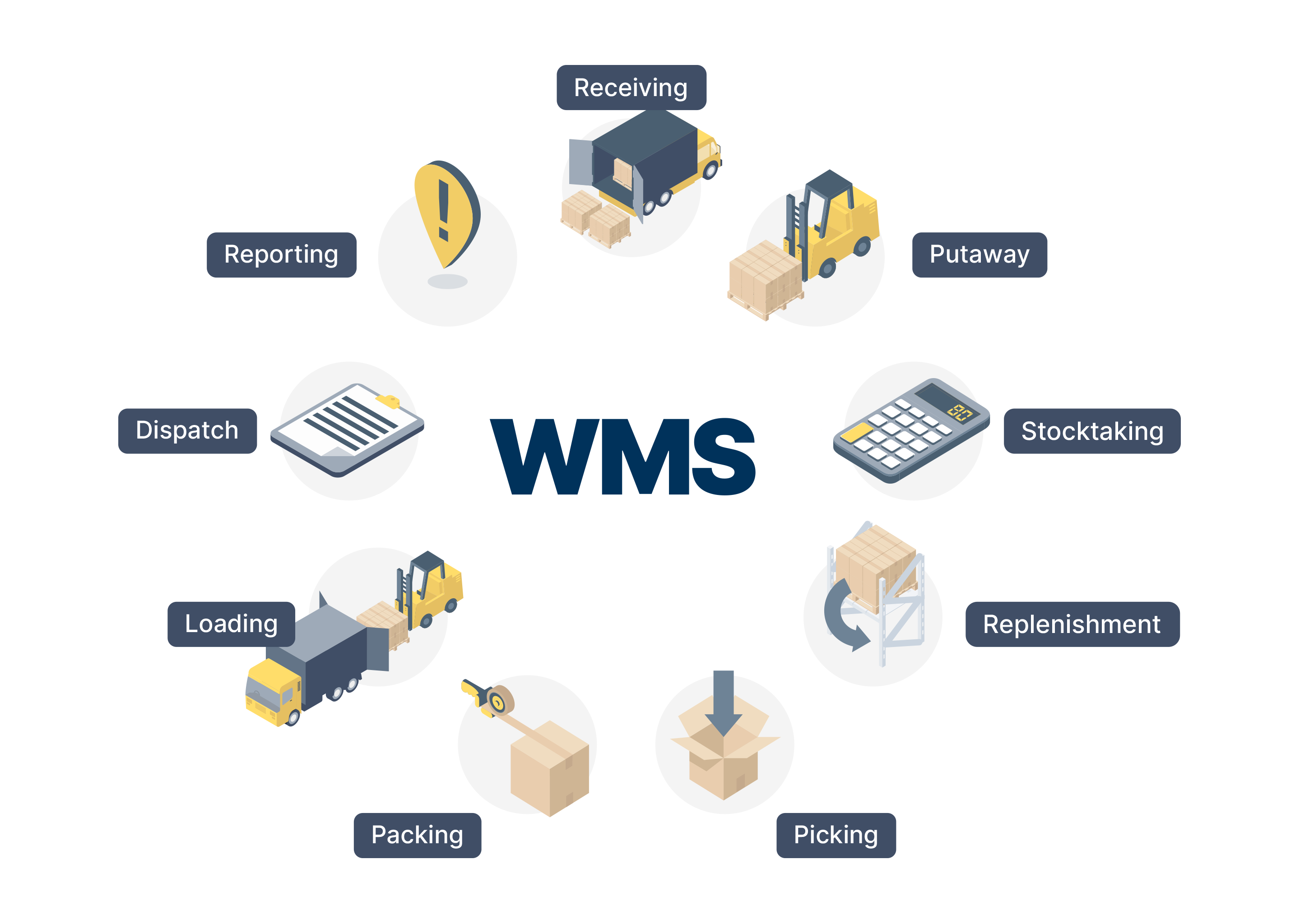 What to look for when choosing a WMS?
Investing in a WMS is a strategic decision, so the key is thinking long-term and finding a solution that future-proofs your operations. The software should be able to:
Provide flexible use of functions according to the warehouse setup
Be scalable in size to adapt to your changing business needs (e.g., multi-site operations)
Prioritize incoming orders
Reduce picking errors through the quality pick, pack, ship, and replenish processes
Support the sustainable use of your resources, e.g., by calculating the most efficient box size for a package
Seamlessly combine manual and automated processes
Easily integrate with other systems for making the most effective decisions
Support advanced order tracking
Keep a constant, real-time track of your performance

Easy operation with Software-as-a-Service (SaaS)
It is possible to run a warehouse management system on-premises or as a cloud-based SaaS solution. More and more of our customers are voting for the latter because with SaaS, they can enjoy all the benefits of WMS while we take care of the IT infrastructure they need. This allows them to spend more time focusing on their core business.


Efficiency boosted with AI
Artificial Intelligence opens new opportunities for efficient and sustainable warehousing. By combining the AI functionality with the WMS, the technology "learns" your operations by continuously collecting data on previous warehouse activities. Take a pick group optimization module as an example. It analyzes historical ordering patterns with the help of AI, learns which articles are ordered together, and suggests moving the articles to a more optimal pick area. The more information the system has, the more accurate its decisions will be, guaranteeing further improvement to your processes.



Some other examples of AI modules:




Smart box calculation ensures that every shipment goes out in the most cost-effective and least wasteful way possible, cutting down on the amount of air shipped.
Pick route optimization calculates the shortest route between all items on the pick list, thus minimizing the travel distance of a pick round and improving employee satisfaction.
Increasing market competition, growing customer demands, and constant supply chain disruptions put much pressure on warehousing. A modern warehouse management system can help you meet these challenges in the long term.

Curious to learn more?
Check our WMS solution here.