Press release
HOW TO WIN WITH THE DIGITAL TWIN
– LOGIMAT VISITORS CAN TEST CONSAFE
LOGISTICS´ SOLUTION
Consafe Logistics, the leading European supplier of warehouse management solutions, will provide a testing possibility of its Astro WMS® Digital Twin module at LogiMAT. During the three-day expo in Stuttgart, visitors can try the software live in a demo environment at Hall 6, Booth G78, and discuss its benefits with industry experts.
The technology, which enables real-time 3D visualization of warehouse processes, creates a big pool of opportunities for companies in the supply chain.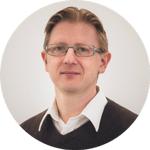 Claes Jönsson
"Ensuring a clear overview of operations is one main benefit of the Digital Twin. Warehouse managers can quickly visualize potential problems and identify bottlenecks, even without being physically present on-site," says Claes Jönsson, Warehouse Automation Expert at Consafe Logistics. "LogiMAT attendees can test our solution in a demo environment to gain first-hand experience of how the software works.
Simulation is another key function of the technology, which opens new horizons in warehouse management. "Many of our customers face seasonal peaks, such as Black Friday, when there´s extreme pressure on warehouse throughput. Stress-testing their work processes helps them prepare for challenging periods," explains Jönsson. Trying out various scenarios also supports decision-making and estimation of the ROI before an investment in an automated solution, designing a new warehouse space, or reorganizing a process.
"It is also possible to combine the simulation with WMS functions. This gives a faster and more realistic forecast of the planned changes, as it is based on actual operational data and system functionality rather than just on logic built into the simulation."
Warehouse staff training is the third area where the Digital Twin is becoming increasingly valuable for businesses. The 3D, real-time view of the warehouse allows users to learn basic working methods and operational processes without physical constraints. This enables faster and cheaper onboarding and more effective knowledge sharing than traditional educational tools such as technical documentation and slideshows.
"Another interesting area for future development is gamification. Using the 3D view of the warehouse with a look and feel like a computer game would make it both efficient and fun to train staff in Astro WMS®," shares the expert.
Test the Digital Twin technology in a demo environment with Claes Jönsson and the Consafe Logistics team during LogiMAT at Hall 6, Booth G78.
About Consafe Logistics
Consafe Logistics is a software development company. We design products and technologies that make warehouse operations of logistics and supply chain companies smarter, more effective, and thus more sustainable. The Consafe Logistics Group has 450+ employees who support our global clients from six European countries - Denmark, Finland, The Netherlands, Norway, Poland, and Sweden. Our headquarters is located in Lund, Sweden.
Press contact
For more information, please contact: